GraniteCrete™ works where others fail.
GraniteCrete paths and walkways have the look and feel of a crushed organic surface, but bear the near-strength and erosion control of professionally installed concrete. Our pathways are porous, allowing water to pass through at over an inch per hour. They also address storm-water and heat-island environmental concerns, yielding 13 points in three categories of the LEED rating system. Combined with your choice of four organic colors, GraniteCrete is the natural, permeable paving solution for your next landscaping project.
Pathways & Rec. Trails
Driveways
Golf Course Cart Paths
Bicycle Trails
Pedestrian Overlooks
Roadway Medians
Landscape Paths
Courtyards & Patios
Off-street Parking
Bocce Ball Courts
Are you a homeowner who needs a sustainable, long-lasting surface for walkways, garden paths or a courtyard? GraniteCrete works for all of these purposes and is strong and lasting enough to be used for parking and driveways as well. Visit our gallery of residential installations for inspiration. Learn how GraniteCrete is perfect for your home!
Ready to talk to an expert about how GraniteCrete™ can work for your landscape? Contact a representative. We will be happy to answer any questions you may have.
GraniteCrete™ Certified Installer Program
Only contractors with extensive experience installing GraniteCrete earn our Certified Installer Badge. Look for this badge when choosing a contractor. Click here for a list of Certified Installers.
Contractors: Interested in earning the Certified Installer badge from GraniteCrete™ ? Show your clients that you are an expert in the installation of GraniteCrete™.
Become a GraniteCrete™ Certified Installer!
Designing the Future of Outdoor Spaces
For over two decades, landscape designer Christian Douglas has explored his passion for creating "beautiful and productive outdoor spaces."  Three key criteria inform his designs: Sustainability; that gardens be edible; and that they have a high end, stylized design sensibility.
His Californian Modern Edible design perfectly embodies these traits. This masterpiece can be found at a private residence in Mill Valley.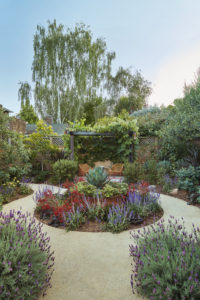 At 5,000 square feet, the limited lot size presented a challenge.  Douglas maximized the space by creating multiple living areas that allow several distinctive experiences as visitors move throughout the landscape.  He accomplished this by using raised vegetable planters, strategically placed anchor points such as a water feature, and carefully chosen plants and fruit trees.
To increase the sustainability of the landscape, Douglas incorporated a rainwater catchment system into the front yard, which made using a permeable paving material a crucial aspect of the landscape design.
Decomposed Granite Failed
He originally used decomposed granite as the substrate.  The decomposed granite served its purpose … for about two years. By that time, it had deteriorated and tracked away so extensively that it needed to be replaced.  He attempted a workaround: he tried a polymer hardener in an effort to make the decomposed granite more stable and to keep it in place.  Unfortunately, this failed; not only did it look "awful," but the decomposed granite would still track away into the house.  Plus, polymer hardeners can reduce permeability and run the risk of allowing unnatural substances to leach into the groundwater.
GraniteCrete Was The Right Replacement
Douglas decided it was necessary to remove the material altogether and start over with a better paving material.  That's when Howard Lasker of SBI Building Materials and Landscape Supplies recommended he use GraniteCrete for its permeability, natural look, and durability.
To complete the installation, Douglas brought in Dave Washer and his team at Art Gardens.  Washer has extensive experience installing GraniteCrete and is a recommended installer of the product.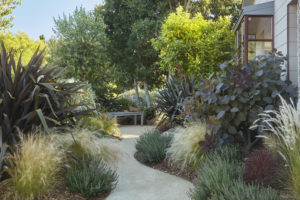 Recycling the Old Decomposed Granite – a bonus!
Since GraniteCrete is mixed with decomposed granite, Washer first made sure the old decomposed granite fit GraniteCrete specifications.  Once confirming it did, Washer was able to satisfy Douglas' goal of sustainability by recycling the old material and using it for the pedestrian pathways in the garden.*
These new pathways support the original goal of utilizing a permeable paving material that augments the landscape's rainwater system. Additionally, because the material is not "loose," it won't track away and these beautiful pathways will be a lasting and attractive feature of this garden for years to come!
"GraniteCrete is more expensive [than plain decomposed granite], but after using decomposed granite for years we found that while decomposed granite is cheaper up front, the lifetime cost is higher [when you take into account] repairs, redoing it, et cetera."

-Christian Douglas, landscape designer
See our story about the Marin Headlands for another example of reusing on-site material with GraniteCrete.