Can we buy you a cup of coffee?
Breaking Down Decomposed Granite
By Justin White, CEO of K & D Landscaping
As trends continue to develop and evolve in landscaping, its likely you've heard of decomposed granite. Commonly referred to in its abbreviated form, DG, it has become quite popular in modern landscape designs. Not only for its aesthetic allure, but also for its functionality and cost-effectiveness. You may have considered using decomposed granite in your landscape, but what exactly is this hardscape material?
Starting off as solid granite stone, the rock decomposes into finer particles after rain, wind and temperature conditions continue to weather it down. For landscaping use, the gravel pieces are usually three-eighths of an inch or smaller. The gravel is then compacted into a semi-hard, but permeable surface. DG is an excellent option for paths, driveways, patios and even large areas of commercial installations like playgrounds and trails. As an organic material, its natural appearance is appealing to many types of clients and it can also help contribute LEED points for certifications in the construction industry. One of the drawbacks of DG is that it can erode over time or become soft after a rain event, potentially tracking into your home on the soles of shoes. Fortunately, there are many binding options that can help secure your DG in place while protecting against the elements.
. . .
The best option is to mix in a binder with the product before installing the DG. The longest lasting and highest quality product on the market today is called GraniteCrete. This patented binder combines with water and DG to create a concrete-like surface that is also permeable. It can be used in almost any application and while it is on the more expensive side due to the labor-intensive mixing process, the end result will last for decades. The next step down is a spray-on stabilizer that is applied atop the DG before compaction. Install the granite into your hardscape area, spray on the stabilizer as directed, and then compact for a finished patio, walkway or playing surface. The spray-on stabilizer can lose its grip or be washed away after a few years of rain fall due to the fact it's not mixed in like the GraniteCrete. But it is a lower cost and less labor consuming process.
Read the entire article here.
GraniteCrete: A Wheel Good Choice for Driveways
As homeowners make green choices with increasing frequency—incorporating native plants into the landscape, opting for solar power, and switching to low-flow appliances—many are turning their sights toward the pavement surrounding their homes.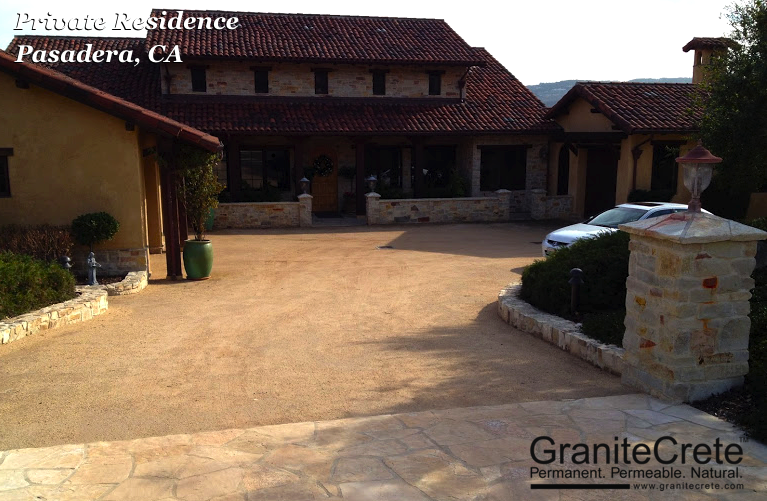 For the areas that see vehicle traffic, homeowners have some important factors to consider:
Is the material durable enough to bear the weight and movement of a vehicle?
Is the finished product going to be attractive and complement the home and surrounding landscape?
Will it be susceptible to annoyances common with traditional paving options, such as surface puddling or weeds poking through?
Finding a solution that fits all these criteria can be challenging.  Fortunately, one doesn't need to look further than GraniteCrete paving material.
Durability
GraniteCrete is an average of 3.5 – 4.5 times stronger in compression than what is required to withstand the surface pressure exerted by a heavy vehicle, such as a fire truck.  Outside of laboratory testing, GraniteCrete's durability has been put to the test at UC Santa Cruz: A crane with ballast weighing 95,000 pounds traveled down a GraniteCrete pathway to its staging area.  Two wheels were on the surrounding dirt and two wheels were on the GraniteCrete, for a total of 47,500 moving pounds on the GraniteCrete at one time.  Despite this heavy load, the GraniteCrete bore the weight without failing!
Aesthetics
GraniteCrete is available in five standard earth-tone colors, as well as custom colors, allowing it to blend in with nearly any surrounding landscape.  This also allows it to easily complement other landscaping elements, such as stone and wood – as shown by the excellent work of Dave Washer.
Common Annoyances
Since GraniteCrete is porous, water won't stay on the surface – meaning homeowners can say "goodbye" to having to choose between dodging puddles or getting their shoes wet after rainfall.  Despite its permeability, GraniteCrete deters weed growth as a naturally weed- (and gopher!) resistant product.  Although it's common to see greenery poking through pavement, that won't happen with GraniteCrete.
Other Benefits
While a GraniteCrete driveway is a winning solution for the homeowner, it also benefits the surrounding community.  Due to its high Solar Reflectance Index (SRI) value, it helps combat the Urban Heat Island Effect; this can lead to reduced energy costs, air pollution levels, and heat-related illnesses – now that's cool!