GraniteCrete™ works where others fail.
GraniteCrete paths and walkways have the look and feel of a crushed organic surface, but bear the near-strength and erosion control of professionally installed concrete. Our pathways are porous, allowing water to pass through at over an inch per hour. They also address storm-water and heat-island environmental concerns, yielding 13 points in three categories of the LEED rating system. Combined with your choice of four organic colors, GraniteCrete is the natural path for your next landscaping project.
Pathways & Rec. Trails
Driveways
Golf Course Cart Paths
Bicycle Trails
Pedestrian Overlooks
Roadway Medians
Landscape Paths
Courtyards & Patios
Off-street Parking
Bocce Ball Courts
Are you a homeowner who needs a sustainable, long-lasting surface for walkways, garden paths or a courtyard? GraniteCrete works for all of these purposes and is strong and lasting enough to be used for parking and driveways as well. Visit our gallery of residential installations for inspiration. Learn how GraniteCrete is perfect for your home!
Ready to talk to an expert about how GraniteCrete™ can work for your landscape? Contact a representative. We will be happy to answer any questions you may have.
Stormwater management and GraniteCrete™
Traditional, impermeable surfaces – such as concrete – have played a huge role in the decline of watershed integrity in urban and urbanizing areas.  These surfaces can affect water quality, affect streamflow, and even increase the likelihood of flooding. Due to these issues, it's becoming increasingly important for new developments and redevelopments to have a stormwater control plan in place.  A stormwater control plan should involve permeable surfaces, stormwater facilities, and a plan for the flow of any runoff.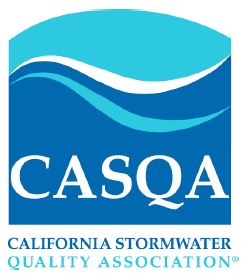 At GraniteCrete, we believe so strongly in stormwater management that we have become members of the California Stormwater Quality Association (CASQA).  CASQA is the author of C.3, a set of definitive guidelines for managing stormwater.
GraniteCrete is proud to meet C.3 requirements as a stand-alone product.  It is a permanent, permeable, and natural paving solution. It contains no polymers or resins, meaning it will not cause any environmentally  harmful substances to leach into the soil or groundwater over time. It stays in place, and is able to self-repair any minor cracks that might occur on the surface due to normal usage.  Not only is it an ideal paving solution to meet C.3 requirements but best of all, GraniteCrete contributes two LEED credits when it comes to stormwater design.
Check out some of our projects specifically designed to meet stormwater management requirements!
GraniteCrete™ Certified Installer Program
Only contractors with extensive experience installing GraniteCrete earn our Certified Installer Badge. Look for this badge when choosing a contractor. Click here for a list of Certified Installers.
Contractors: interested in earning the Certified Installer badge from GraniteCrete™ ? Show your clients that you are an expert in the installation of one of the most sustainable choices for walkways and surfacing solutions on the market. Become equipped to advise your clients on the best application of GraniteCrete™ for their needs and then follow up with expert installation they can trust. Become a GraniteCrete™ Certified Installer!