Can we buy you a cup of coffee?
Can Permeable Pavement Help With Issues Such as Flooding?  In Short: Yes
Courtesy of Houston Public Media; read the full article here
One of the oft-cited reasons Houston flooded so badly during Hurricane Harvey – and why it seems to flood so easily during other times of heavy rain – is that Houston simply has too much pavement.
This is somewhat unavoidable.  After all, as cities continue to grow and expand, there will be an increased need for lots of roads, parking lots, and sidewalks. And that means pavement.  However, there is a solution: permeable pavement.  Permeable pavement can be used for roads, driveways, parking lots, and walkways – allowing water to seep down into the soil below.
Houston construction company Piper Whitney specializes in those materials, from bricks, to artificial grass, and now to GraniteCrete.  We are thrilled to work with Piper Whitney to help turn Texas a little more permeable.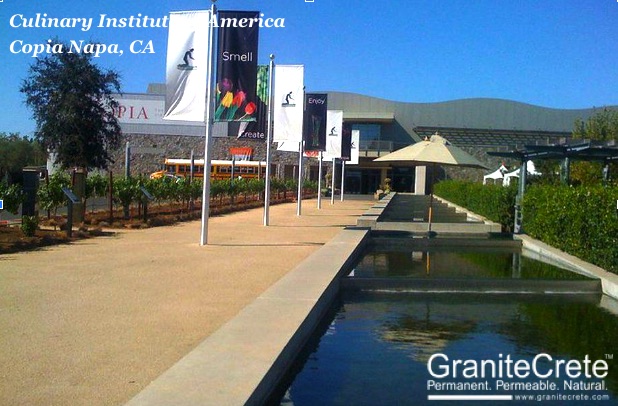 The Culinary Institute of America at Copia Achieves Sustainable Perfection
Located in Napa Valley, California—the pinnacle destination for exploring the world of food and wine—the Culinary Institute of America at Copia (CIAC) campus achieves sustainable perfection.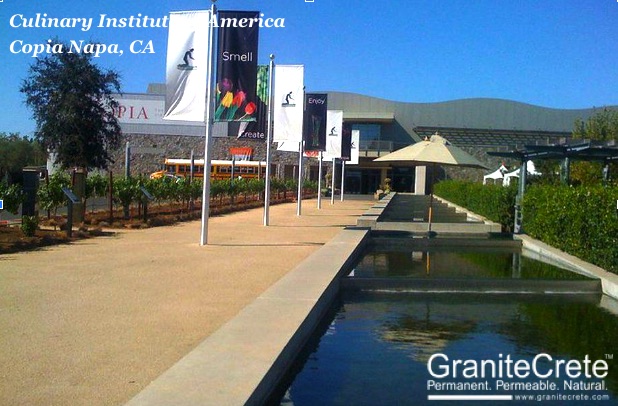 "CIA at Copia is a first for The Culinary Institute of America, entirely dedicated to offering its innovative, industry-leading food and wine education and experiences to the public. It opens a window into what the CIA truly is: a visionary thought-leader and innovator in food and beverage, with world-class faculty and facilities." 
-Thomas Bensel, managing director of CIA's California campus
The CIAC is a branch of the Culinary Institute of America (CIA).  It's led by Strategic Initiative Groups, which works with other culinary institutes to ensure guests and students are provided with the best and most up-to-date information.  The Copia building was originally utilized by the Copia museum from 2001 to 2008; the CIA acquired the building in 2015 and redesigned the facility with sustainability in mind.
The CIAC campus is truly a sustainable marvel.  It features various solar, water, and renewable material strategies in its design. The campus also prioritizes stormwater runoff management and the mitigation of the urban heat island effect.  Not only does GraniteCrete perfectly address these issues, it's earth-tone color beautifully complements the amphitheater and the entrance to the facility where it was installed.
The CIAC demonstrates sustainable excellence, while offering the top culinary education and experience for the community.