GraniteCrete™ works where others fail.
GraniteCrete paths and walkways have the look and feel of a crushed organic surface, but bear the near-strength and erosion control of professionally installed concrete. Our pathways are porous, allowing water to pass through at over an inch per hour. They also address storm-water and heat-island environmental concerns, yielding 13 points in three categories of the LEED rating system. Combined with your choice of four organic colors, GraniteCrete is the natural, permeable paving solution for your next landscaping project.
Pathways & Rec. Trails
Driveways
Golf Course Cart Paths
Bicycle Trails
Pedestrian Overlooks
Roadway Medians
Landscape Paths
Courtyards & Patios
Off-street Parking
Bocce Ball Courts
Are you a homeowner who needs a sustainable, long-lasting surface for walkways, garden paths or a courtyard? GraniteCrete works for all of these purposes and is strong and lasting enough to be used for parking and driveways as well. Visit our gallery of residential installations for inspiration. Learn how GraniteCrete is perfect for your home!
Ready to talk to an expert about how GraniteCrete™ can work for your landscape? Contact a representative. We will be happy to answer any questions you may have.
GraniteCrete™ Certified Installer Program
Only contractors with extensive experience installing GraniteCrete earn our Certified Installer Badge. Look for this badge when choosing a contractor. Click here for a list of Certified Installers.
Contractors: Interested in earning the Certified Installer badge from GraniteCrete™ ? Show your clients that you are an expert in the installation of GraniteCrete™.
Become a GraniteCrete™ Certified Installer!
The Future in Sustainability
"Sustainability" has become something of a buzzword these days.  But at MEarth—an "environmental education non-profit"—located at the Hilton Bialek Habitat in Carmel-by-the-Sea, California, sustainability is much more than a buzzword.  Sustainability is a core value that anchors its daily operations and existence.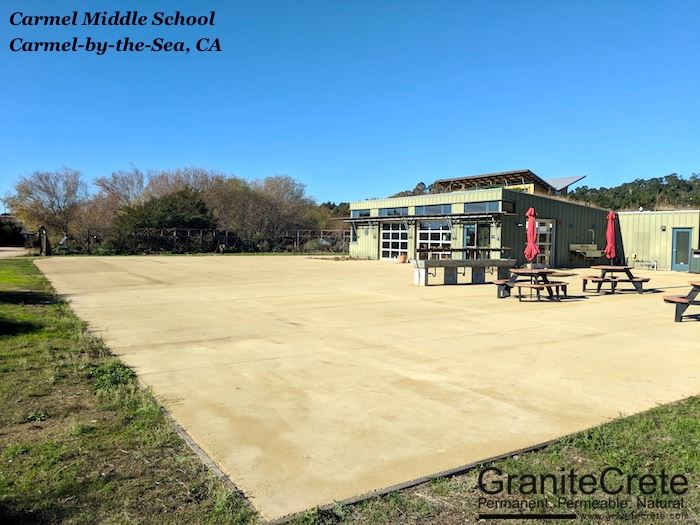 MEarth Champions Sustainability
MEarth is an innovative learning environment that educates students from the surrounding school districts about environmental stewardship and ecoliteracy: how their personal choices directly impact the planet.
It accomplishes these goals through programs that incorporate its Green Classroom and kitchen, a LEED-certified building that "allows students to experience how a building can be used to help sustain the environment."
The Green Classroom Design
Designed by Arkin Tilt Architects, the Green Classroom features many eco-friendly design elements – such as solar panels on the roof, a passive solar design, a butterfly cupola, and a rainwater catchment system.
Its design plays a huge part in the building's LEED status, which is bolstered by the use of GraniteCrete paving material to create the beautiful, spacious patio in front of it.  The patio houses picnic tables with umbrellas where students can relax and socialize, and plenty of open space for occasional community events.
As a stand-alone product, GraniteCrete is able to contribute 13 points to a building's LEED status across three categories.  We at GraniteCrete are proud that our environmentally-friendly paving material was chosen to contribute to MEarth's vision of sustainability.