Can we buy you a cup of coffee?
Can Permeable Pavement Help With Issues Such as Flooding?  In Short: Yes
Courtesy of Houston Public Media; read the full article here One of the oft-cited reasons Houston flooded so badly during Hurricane Harvey – and why it seems to flood so easily during other times of heavy rain – is that Houston simply has too much pavement. This is somewhat unavoidable.  After all, as cities continue to grow and expand, there will be an increased need for lots of roads, parking lots, and sidewalks. And that means pavement.  However, there is a solution: permeable pavement.  Permeable pavement can be used for roads, driveways, parking lots, and walkways – allowing water to seep down into the soil below. Houston construction company Piper Whitney specializes in those materials, from bricks, to artificial grass, and now to GraniteCrete.  We are thrilled to work with Piper Whitney to help turn Texas a little more permeable.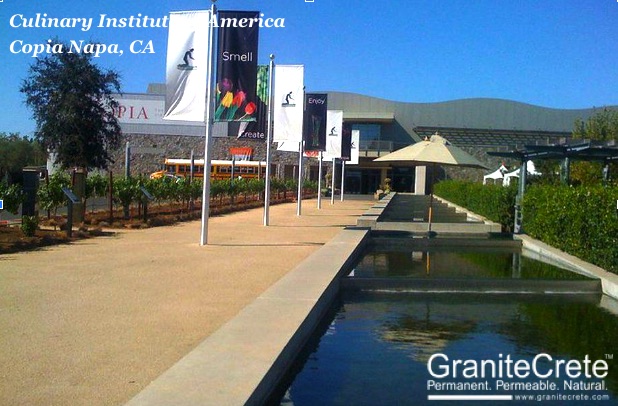 UCSC Chooses Sustainability
At the University of California Santa Cruz (UCSC,) the Coastal Science Campus covers 100 acres, and encompasses several buildings that play significant roles in the university's Coastal Sustainability Initiative.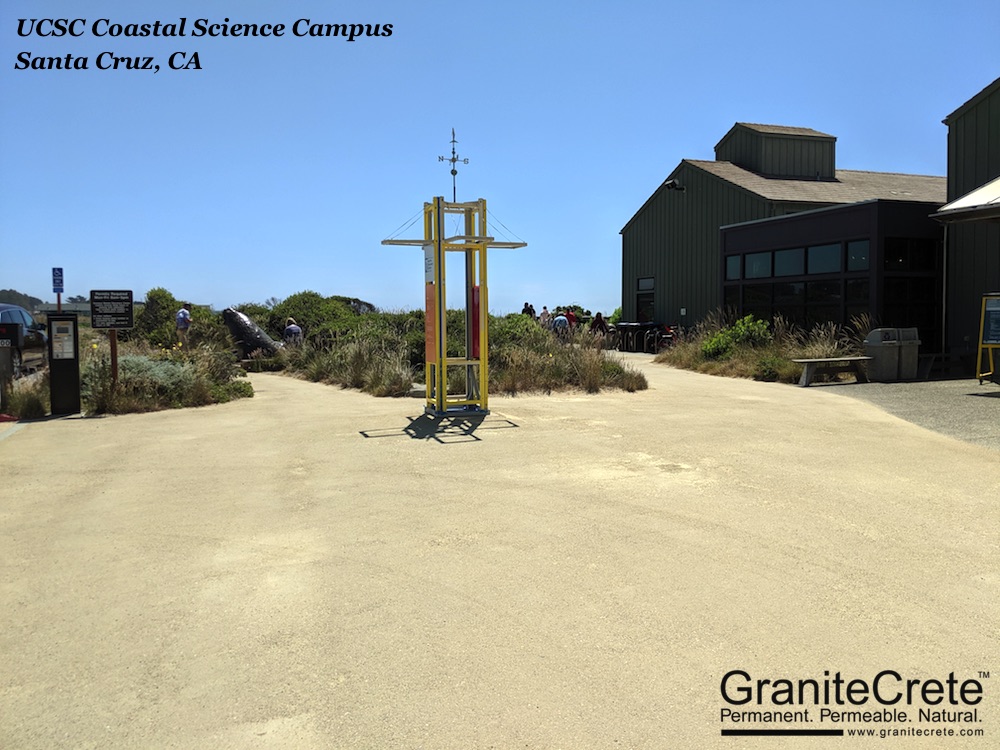 The Coastal Sustainability Initiative addresses various environmental issues with a focus on the health of coastal ecosystems around the world.  At the Coastal Science Campus, some of the facilities that help with achieving this goal are the Joseph M. Long Marine Laboratory and its Seymour Marine Discovery Center, as well as the Coastal Biology Building that opened its doors in 2017.
The Coastal Biology Building is an impressive 40,000-square foot building designed by EHDD Architecture.  It features various laboratories and offices to support both faculty and research. The building is equipped with a 125-foot seminar room, analytical labs, and a natural running seawater laboratory.
When designing the surrounding landscape, landscape architects Joni L. Janecki & Associates (JLJA) were careful to consider the substantial impact this project could have on the fragile ecosystem surrounding the project.
GraniteCrete was uniquely qualified to meet these concerns while offering a sustainable and lasting solution.  JLJA chose GraniteCrete as a paving solution, and pushed for its inclusion for an 8-foot-wide walkway surrounding the Coastal Biology Building.  The aesthetics of the walkway add to the natural beauty of the campus and the surrounding area.
Installation of the walkway was completed by Graniterock Construction Division. The ease of installation and quality of GraniteCrete's Admixture was recognized by Graniterock installers: "Everyone loves it. It really holds up well."
GraniteCrete is proud to partner with fellow sustainable organizations such as the UCSC Coastal Science Campus, as they prioritize positive environmental practices.