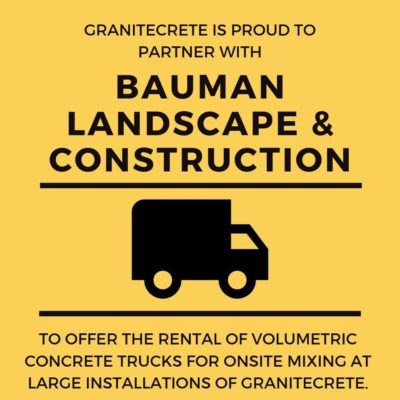 Options for Mixing GraniteCrete with Decomposed Granite
There are three primary methods for mixing GraniteCrete with decomposed granite when installing GraniteCrete. The best method to use depends on the size of the installation.
Based on our experience, we recommend the following methods for the following installation sizes:
For installations up to 500 square feet, we recommend mixing GraniteCrete and decomposed granite onsite using a portable concrete mixer, preferably with a fiberglass drum for easy cleaning.
For installations ranging from 501 square feet to 3,000 square feet, we recommend the use of pre-mixed (and dry) decomposed granite and GraniteCrete admixture; pre-mixed material can be purchased from one of our retailers.  The pre-mixed material will arrive DRY and will need water added for proper installation of GraniteCrete.Or, the decomposed granite and GraniteCrete can be ordered UNmixed and delivered to the installation site, where a volumetric truck can be used to mix the decomposed granite, GraniteCrete, and water.
For installations 3,001 square feet and larger, we recommend the use of a volumetric truck. A volumetric mixer has separate areas for decomposed granite, GraniteCrete admixture, and water. It is able to mix these materials together at the job site to produce GraniteCrete ready to install, saving valuable time.
Whatever the method, it is important the the GraniteCrete admixture and the decomposed granite be mixed evenly. For guidance on mixing or installing GraniteCrete, refer to our installation instructions, contact your retailer, or contact us.
GraniteCrete™ Certified Installer Program
Only contractors with extensive experience installing GraniteCrete earn our Certified Installer Badge. Look for this badge when choosing a contractor. Click here for a list of Certified Installers.
Contractors: Interested in earning the Certified Installer badge from GraniteCrete™ ? Show your clients that you are an expert in the installation of GraniteCrete™.
Become a GraniteCrete™ Certified Installer!
To Our Clients and Colleagues During the COVID-19 Pandemic
Dear Clients and Colleagues:
Together, we are facing a truly unprecedented situation. The global coronavirus pandemic is affecting all of us in some way. During this uncertain and rapidly-changing time, we wanted to reach out and update you on how we're approaching the situation at GraniteCrete.
First and foremost, our hearts go out to anyone who's been impacted by the virus. Our thoughts are especially with those who are sick, to whom we extend our sincere wishes for a full recovery.
Second, at GraniteCrete, we're focused on the health and safety of our employees, families, and communities. We have chosen to suspend all travel and in-person meetings, and our employees will be working from home for the foreseeable future.  However, we are still open for business. As always, we will be happy to take and fulfill any orders during this time.
Thirdly, we remain committed to being communicative and responsive to the people we work with. In the days and weeks to come, please don't hesitate to reach out to us.
Wishing you all good health.
Sincerely,
The GraniteCrete Team