Our network of retailers is growing all the time. If you don't see a retailer in your area, contact us. We will help you find a solution.
Please review our guide, GraniteCrete Pre-installation Checklist.
Pre-Mix Facilities: Retailer locations that are listed below as a "Pre-mix Facility" offer both the DRY pre-mixing of the decomposed granite and the GraniteCrete admixture and delivery to the jobsite.  The pre-mixed material will arrive DRY and will need water added for proper installation of GraniteCrete. We recommend using pre-mixing for jobs requiring 5 cubic yards of material or more; this will save time in the installation process.
"For a recent installation, GraniteCrete arrived pre-mixed with decomposed granite at my installation site. What a game-changer! Installation went quickly and smoothly – way better than on-site mixing. I highly recommend pre-mixed GraniteCrete and decomposed granite for ease of installation."
-J.R. Lester, Owner of Town & Country Gardening and Landscaping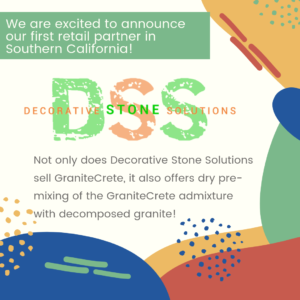 Disclaimer: GraniteCrete warranties the quality of our admixture in every bag. GraniteCrete does not warranty the quality of pre-mixing by third parties.