GraniteCrete, as a company, is a leader in the permeable paving industry and a strong advocate for permeable paving.  Water percolates through GraniteCrete at over 1″ per hour. We are proud to produce a product that meets C.3 requirements as a stand-alone product, and contributes two LEED credits for stormwater design.  GraniteCrete is an ideal permeable paving solution.
Traditional impermeable surfaces—such as concrete and asphalt—play a huge role in the decline of watershed integrity in urban and urbanizing areas.  The evils of impermeable paving include:
Water puddling on non-porous surfaces

Higher rates of discharge and runoff to lakes and the ocean

Bank erosion

Sediment transportation

Increased pollutant loads in streams

Reduced groundwater recharge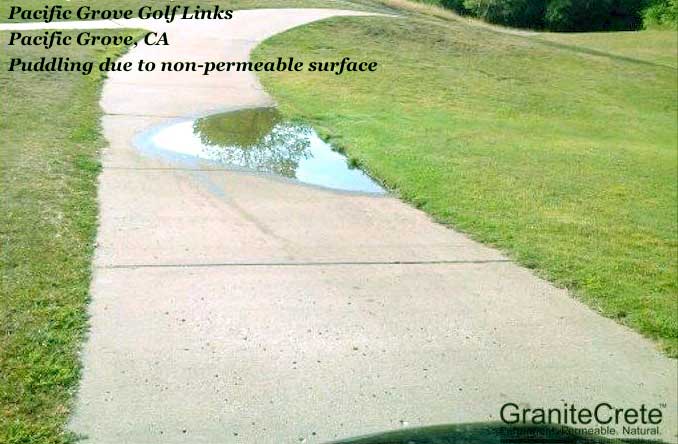 Fortunately, permeable paving options exist.  
Residential and commercial projects can be designed with beautiful and permeable paving that will make their owners proud and achieve both environmental and financial benefits.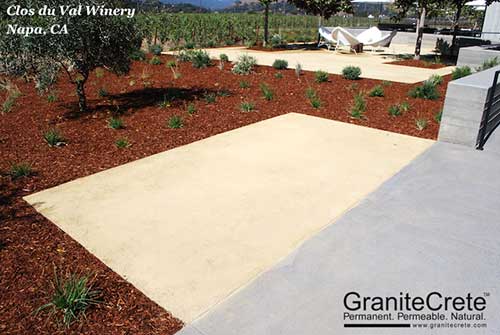 Environmental benefits:
Reduces storm water runoff rate and volume

Reduces water pollution by trapping pollutants in the pavement

Replenishes groundwater, which can in turn be used by plants surrounding the pavement
Financial benefits:
Reduces the need for some conventional drainage features, such as curbs and gutters

Lower installation costs, since underground piping and storm drains are not needed

Reduced water-usage costs, since surrounding plants can benefit from the replenished groundwater