The Right Decomposed Granite for a Quality Job
What is Decomposed Granite?
Decomposed granite (DG) is a material formed by quarrying and pulverizing solid granite.  It is like gravel, but finer and—when compacted—more stable.
DG can also vary in hue, or color, depending on where it is quarried from.  The color of DG from within the same quarry can have differences if it comes from different "veins" in the same quarry.
Types of DG Used in Hardscaping
"Hardscape" is any non-living aspect of a landscape design, and can include decomposed granite.  The two main types of decomposed granite used in hardscaping are "unstabilized DG" and "stabilized DG."
Unstabilized DG is simply loose granite with no binders or additives.  While it has excellent drainage and the initial cost is low, loose decomposed granite can be costly to maintain.  It easily washes away due to rainfall, or gets tracked away from the installation site (and into homes, which may damage hardwood flooring).
Stabilized DG is comprised of a stabilizer combined with the granite aggregates.  This provides the decomposed granite with varying levels of permanence, depending on the stabilizer used.  Unfortunately, not all stabilizers are permeable and some may allow environmentally-harmful materials to leach into the groundwater.  Common stabilizers are explored in more detail here.
One such stabilizer that can be used is GraniteCrete Admixture.  This is an ideal stabilizer because it requires little to no maintenance, does not fail over time, and has excellent erosion control.  It is also permeable, allowing water to easily pass through; since it does not contain any oils, resins, polymers, or enzymes, it will not cause water pollution.
To ensure quality installations of GraniteCrete, it's important that the GraniteCrete admixture is combined with decomposed granite that meets the specifications in our Specification Guide.
Let's Get Technical
Decomposed granite always has a sieve analysis associated with it.   The sieve analysis is the percentage of sizes of the aggregate particles.  The DG used for landscaping is often composed of ⅜" minus (or smaller) particles.  The ⅜" aggregate is sometimes referred to as "bone" and makes for easier, and more-beautiful installations.
The sieve analysis of DG that creates the best GraniteCrete installations is below.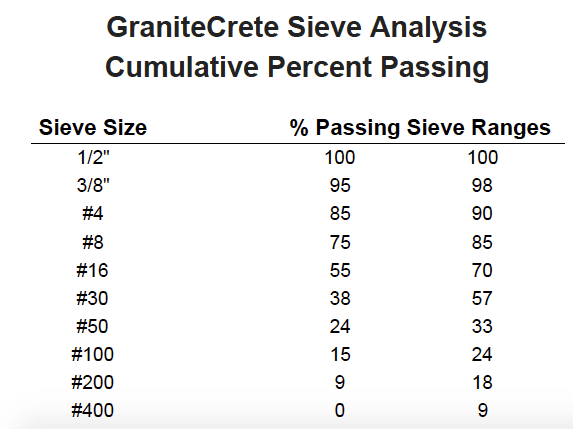 As one can see, these ranges vary without affecting the integrity of the final installation. It is critical that the decomposed granite used contains at least 2% to 5% of true ⅜" sized aggregate.  
It is also critical that the non-expansive clay fines—sieve 200 and sieve 400—do not exceed 18%.  If the clay fines exceed 18%, this can lead to several issues:
Since it is more or less clay dust, the clay fines will make the DG too "creamy" once it's combined with water.

During compaction, the fines will rise to the top.  This will cause an undesirable "slick" look, and discoloration of the finish.

The mixture will be difficult to work.  As a result, surface imperfections will be tricky to remove and creating an acceptable finish will be difficult.

Reduced final permeability.  Larger stone creates voids in the final installation; these voids allow water to pass through to the ground below.
The importance of using DG with a low clay content and a healthy percentage of true ⅜" stone cannot be emphasized enough.
Decomposed granite that falls within the ranges noted above are found throughout California.  Ask the supplier to provide a sieve analysis of the decomposed granite they provide.
We're Here to Help
Please take the time to find a decomposed granite that meets our specifications.  If you have any questions about a sieve analysis, don't hesitate to reach out to us.  We are happy to review it to ensure an acceptable DG is used.